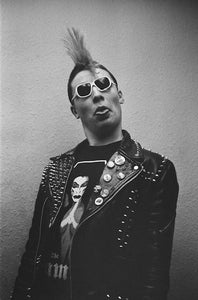 FACE TO FACE
.
01/12/23
.
Photographs from the archival collections of Dr Lynda S. Robertson DCA. FRSA
This exhibition displays images unseen for 40 years. Captured 'in the moment' the photographs offer a slice of cultural and social history.
On 15th October 1982, using an Olympus OM1 camera with 35mm black and white film, Robertson recorded The Damned, the support punk band Charge and their fans at Tiffany's, 506 Sauchiehall Street in Glasgow. Also, on show is a  record of Finnish band Hanoi Rocks at Strathclyde Union, 90 John Street on 15th May 1983 and at Night Moves, 92 Sauchiehall Street on 19th May 1983. Photographs of Dave Tregunna, bass guitarist with Sham 69 and The Lords of the New Church and Terry Chimes of The Clash are included as well as punks from the Street Portraits collection taken in Glasgow on 11th September 1982.
The Mayor of London, Sadiq Khan nominated Croydon as the London Borough of Culture 2023. With Captain Sensible of The Damned originating from the city, Robertson's photographs of the guitarist have been selected for the Croydon Music Heritage Trail and to raise funds for The David Lean Cinema: Croydon/London Punk Film Festival. The image titled Dundee Punk, recently selected by The McManus: Dundee's Art Gallery & Museum in Scotland is now on permanent display in their culture section.
As a Fashion and Textile Designer, Lynda S. Robertson created collections for high profile companies prior to establishing her own label which sold to, amongst others, Sting and Peter Gabriel. With a lifelong interest in the power of image, Robertson has continued to use photography as a record and as a working tool for her creativity.
Vinilo Record Store, Southampton presents a unique opportunity to view and purchase photographs, posters and postcards from this unknown collection.
*
Event 1st December 2023 7pm - 9pm
43 – 47 Queensway Southampton