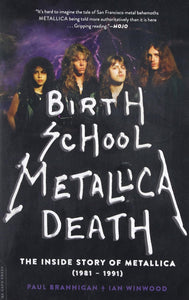 Birth School Metallica Death
is the definitive story of the most significant rock band since Led Zeppelin, covering the band's formation up to their breakthrough eponymous fifth album, aka "The Black Album." The intense and sometimes fraught relationship between aloof-yet-simmering singer, chief lyricist, and rhythm guitarist James Hetfield and the outspoken and ambitious drummer Lars Ulrich is the saga's emotional core. Their earliest years saw the release of three unimpeachable classics (
Kill 'Em All
,
Ride the Lightning
, and
Master of Puppets
), but it was the breakthrough of
...And Justice for All
that rent the fabric of the mainstream, hitting the top of the charts without benefit of radio airplay or the then-crucial presence on MTV. And in 1991, with the release of "The Black Album," Metallica finally hit the next level with five hit singles and their first album atop the
Billboard
charts.
Veteran music journalists and Metallica confidants Paul Brannigan and Ian Winwood detail this meteoric rise to international fame in an epic saga of family, community, self-belief, the pursuit of dreams, and music that rocks. Told through first-hand interviews with the band and those closest to them, the story of Metallica's rise to the mainstream has never been so vividly documented.