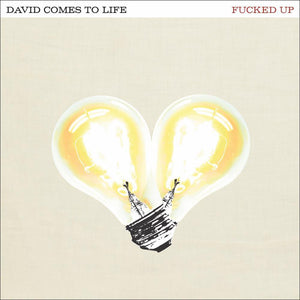 Pre Order Released 10/12/21
In 2011, Toronto's Fucked Up delivered an album that chafed the edges of punk rock's conceptual boundaries –a set of songs that splayed freely into unexpected instrumentation, psychedelic drift, and situationist philosophy. Its ambition was limitless and its run time opulent. Which is to say, they made a concept album.
Matador Records celebrate the 10th anniversary of Fucked Up's titanic 78-minute early '10s masterpiece, David Comes to Life, with a limited-edition 2xLP reissue on lightbulb-yellow vinyl.
David Comes To Life is a story of lost love, global meltdown, depression, bombs, guilt and madness. Or is it? A modern-day morality tale set amid the dour backdrop of a British industrial town in the late '70s, it's a four-part play that follows the dark moods and inner psyche of the titular hero. At the same time, the reliability of the narrator gets called into question. The tables are turned, responsibility shifts, and the story goes meta. Of course,you could always ignore the backstory and just listen to a fiercely imaginative double album of blistering, melodic rock'n'roll shot through with all manner of psychic weirdness.