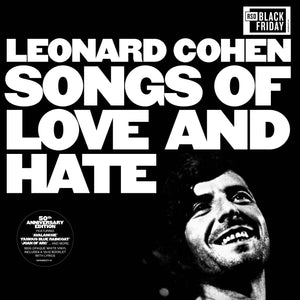 Pre-orders not available on Black Friday titles. All titles will be available in shops on Friday 26th November 2021. They will be available to buy online at 8am Saturday 27th November 2021.
50th anniversary edition on 180 gram opaque white vinyl, with updated / re-typeset embossed packaging that includes a brand new 8 page 12x12 lyric booklet. The audio has been sourced from the original analogue tapes via a new direct digital transfer. Note: Track list on back of LP sleeve is a sticker that comes off when the cellophane is removed so that the jacket replicates the original package without tracklist.
Cohen's genius slab of introspective, poetic, damaged raging folk from 1971. Leonard is on majestic form here with masterly songs such as 'Famous Blue Raincoat', 'Avalanche' and the bitter spewing of 'Dress Rehearsal Rag' and 'Diamonds in the Mine'.