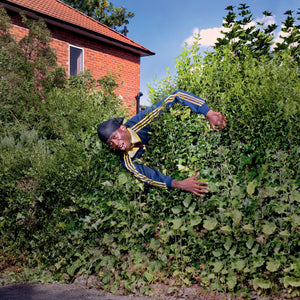 01/03/24
Master Peace
How To Make A Master Peace - Yellow Vinyl 
Peace Okezie, the brainchild behind Master Peace, does not mince his words.
He needs to get things out and embodies the phrase, "If you're going to say it, just say it."
While never careless or unsympathetic with his words, the phrase is an affirmation that fuels him.
Lucky for us, his energy is on par with the idiosyncratic, effervescent and most importantly, extremely good music he makes with intention and a keen ear.
Master Peace's music is about inviting people into the weird, wonderful and cacophonous world he's created. Attracting listeners who crave rebelliousness and divergence from the norm.
Master Peace's debut album How To Make A Master Peace, pushes the parameters of genre more than ever. Peace
flexes his inspirations by cutting through the sonic generations of British music that have raised him.
'I Might Be Fake' has the urgency of 2005's 'Giddy Stratospheres' by the Long Blondes, mixed with the spaciness of the late noughties Klaxons catalogue.
'Shangaladang' is an ode to Peace's black music inspirations, with a nod to Skepta; here he adapts the lyrics 'I've got my hood mates and white niggas" from the rapper's 2016 song 'Man' to fit his more
rugged, The Clash - like tune. The raucous artist has been hailed as the new voice of British Indie and was a "One To Watch" nominee at the 2023 AIM Awards. The 11 track album is a
pastiche of the alternative music the British artist was raised on, from Arctic Monkeys & Friendly Fires to Gorillaz. His headline tour, culminating at the iconic Scala, will see Master Peace create his own legacy in British Indie
music, and this album is a statement of intent.