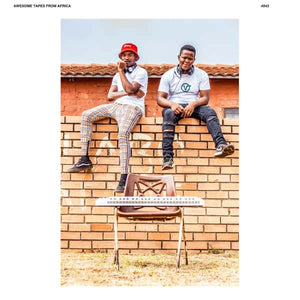 Pre Order Released 24/09/21
In common parlance, the two producers who make up Native Soul would be considered "ma2000" - or, born after the onset of democracy, having never experienced Apartheid - by virtue of their age. Kgothatso Tshabalala is 19 years old and Zakhele Mhlanga (DJ Zakes) is 18. Their 12-track debut electronic music album, Teenage Dreams, is not easily dismissed as a project that shows their age, though. Teenage Dreams presents a youthful, experimental sound, but the arrangement of each song and how each of the project's composite parts are put together demonstrate an artistic maturity beyond the two producers' respective ages.
A cousin of Tshabalala introduced the two in 2016. Native Soul was formed in 2019. Until then, each of them had been producing music in a variety of styles including hip-hop, different types of house as well as amapiano. They decided that with Native Soul, their focus would be on amapiano - an electronic music movement which, by then, had begun to dominate both mainstream and underground music scenes in South Africa. Amapiano is an electronic music movement first created and still most popular in the townships surrounding the major cities of Gauteng province in South Africa. The style borrows from various genres which have been popular in South African townships during and after apartheid, including jazz, folk, afro, deep and tech house, kwaito, dibacardi and others.
As well as paying homage to all its predecessors, amapiano also has traits entirely of its own making, which differentiate it from its lineage. The most recognisable of these being the drums made from basslines which stick out like a pocket turned outside of pants. On their debut album released by Awesome Tapes From Africa, Native Soul demonstrate the depth of the musical well they draw from. The drawling tempo and synth chords on "Way to Cairo", the album's second song, are reminiscent of a certain type of Kwaito popular with pantsula culture. The most discernible nod to Afro House on Teenage Dreamscomes in the form of "Dead Sangoma"'s percussive drums. Similarly, the aptly named "United As One" carries a tinge of Moloko's "Sing It Back" which was released in 1999, became anthemic in South Africa and continues to represent a belle epoque of electronic music in the country. Throughout the album, each song develops patiently introducing various instruments and elements in turn. With each layer added, the emotion elicited from the listener is deepened. In this way, Teenage Dreams is not just a dance album, but one that understands what can be gained when artistic maturity meets experimentation.