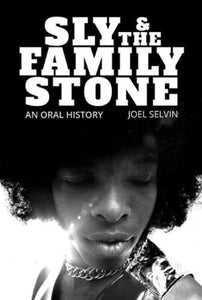 Sly Stone shook the foundations of soul and turned it into a brand new sound that influenced and liberated musicians as varied as Miles Davis, Stevie Wonder, and Herbie Hancock. His group—consisting of Blacks and whites, men and women—symbolized the Woodstock generation and crossed over to dominate pop charts with anthems like "Everyday People," "Dance to the Music," and "I Want to Take You Higher."

Award-winning journalist and bestselling author Joel Selvin weaves an epic American tale from the voices of the people around this funk phenomenon: Sly's parents, his family members and band members (sometimes one and the same), and rock figures including Grace Slick, Sal Valentino, Bobby Womack, Mickey Hart, Clive Davis, Bobby Freeman, and many more. In their own words, they candidly share the triumphs and tragedies of one of the most influential musical groups ever formed—"different strokes" from the immensely talented folks who were there when it all happened.

"Joel Selvin, the veteran music critic of the
San Francisco Chronicle,
published a thoroughgoing, book-length oral history of the group in 1998 that is as disturbing and chilling a version as you'll ever find of the 'dashed '60s dream' narrative: idealism giving way to disillusionment, soft drugs giving way to hard, ferment to rot." —David Kamp, "Sly Stone's Higher Power"
Vanity Fair,
August 2007

Available for the first time in years,
Sly & the Family Stone: An Oral History
, is an unflinching look at the rise and fall one of music's most enigmatic figures.