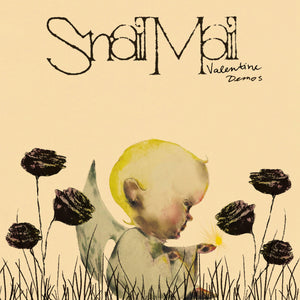 03/11/23
Marking the two year anniversary of the release of her critically acclaimed album 'Valentine', Snail Mail (Lindsey Jordan) will put out 'Valentine Demos' EP digitally on November 2nd. Consisting of four early stripped-down recordings of songs from the 2021 album including the previously shared "Adore You" (a working title for "Valentine"), it also features previously unreleased song "Easy Thing".
Jordan says: "Without further ado, here are the demo versions of some of the songs that would become integral to the making of Valentine. A little over three years ago, holed up at my parents' house in Maryland, with just a minilogue synth, an interface, a mic, and a guitar, I started working on writing my second full length record. I prefer some of the demos to what actually came out on the record because of how intimate and solitary the process was. You can kind of hear me crying in one of them. Maybe two actually haha."
'Valentine', the second album from Snail Mail, was featured prominently in best of the year roundups from New York Times, Vogue, Rolling Stone, The New Yorker and many others. It was described as "... exquisite (...) dazzlingly sharp and passionate" (Pitchfork 'Best New Music'), "remarkable second album (...) alive with such crackling and revelatory emotion" (The New York Times), "a truly satisfying album of 10 perfectly crafted tracks" (the i) and "doesn't so much touch you as it does completely eviscerate you" (Crack). On release, 'Valentine' landed at #1 on the Billboard Emerging Artist Chart and #61 in the Billboard Top 200 in the US, and entered the Top 40 album charts in the UK and Australia.
Tracklisting
Automate (Demo)
c. et al. (Demo)
Headlock (Demo)
Easy Thing (Demo)
Adore You (Valentine Demo)