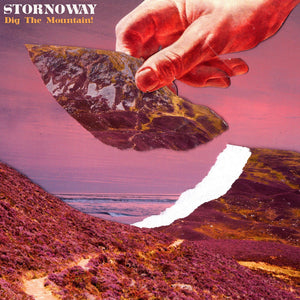 06/10/23
During their original run, Stornoway achieved immense critical acclaim, fan adoration and two Top 20 albums, one of which (their debut Beachcomber's Windowsill) was certified Silver. But in 2016 they announced that they were ending on a high (2015's Bonxie being "their best album yet" according to The Guardian) with the following year's farewell tour, although their rapturously received Womad set ("a magnificent farewell", The Spectator) was delayed until 2022. They still earned new fans, however, when their version of 'The Only Way Is Up' exceeded 2 million streams after being used in an advert and in various TV shows.
Vocalist / guitarist Brian Briggs stopped songwriting altogether and instead pursued a new career passion managing a wetland for water voles and lapwings. Nonetheless, Brian and bandmates Jon Ouin (keyboard) and Oli Steadman (bass) stayed in touch, and step-by-step they reconnected with the love of creating music that had first inspired them to start a band. With Brian writing in a makeshift studio on a remote coastal hilltop and Jon readying a series of ideas of his own, eventually an entirely unexpected fourth Stornoway album emerged - Dig The Mountain!, released  via Cooking Vinyl.
Stornoway introduce the album with the new song 'Trouble With The Green'. It's the glory of sunrise (or sunset) set to music, as painted by a keen-eyed but perhaps overwhelmed observer. It's a synaesthetic wonder, rippling with sights and sounds and birdsong. In contrast to its uplifting sound, it's a whirlwind of tumultuous emotions which can be succinctly summarised by its striking lyric, "'Red sun, low on the page. You can decide if it's going up or down…' Brian explains, "I have a friend and fellow bird lover with ADHD and her mind fizzes with ideas and colours. She recently managed to escape from a very dark place fighting an addiction, and I was so scared for her when I painted this song. I tried to get inside her head, to speak to her, balancing the texture and beauty in nature with an intense bass and drum part, representing the dark undertow of her addiction."
The trio all contributed to the record from their own locations: Brian in southwest Wales, Oli in southeast London and Jon in Oxford, with Mike Lindsay of acid folk pioneers Tunng on production duties. While Oli's brother Rob (drums) isn't part of this new chapter of Stornoway having started a new life in America, so Mike Monaghan (Gaz Coombes, Saint Etienne) contributes drums throughout.
Nonetheless, the album is packed with inspiring collaborations. Sam Lee features on the sinuous, woodsy folk-funk of 'The Navigator'; Chinese musician Yijia Tu contributes gorgeous vocals to Stornoway's rootsy take on Björk's 'It's Not Up To You'; Guillemot Fyfe Dangerfield sings on 'Anwen', a song inspired by Brian's daughter's joyful dancing; former Black Mountains poet Paul Henry wrote the lyrics for 'Kicking The Stone'; and Gareth Bonello (The Gentle Good) wrote the original version of 'The Fisherman' before it was reinvented by Stornoway.