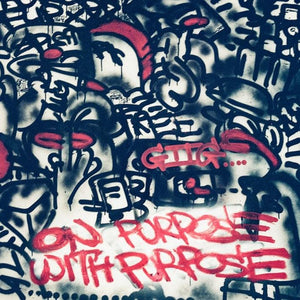 05/01/24
Ghetts proudly presents new album, On Purpose, With Purpose.  The record - which follows 2021's epic Conflict Of Interest - continues the ongoing artistic evolution and unstoppable rise of one of the UK's greatest rappers.  
Ghetts returns sounding sharper, more unflinchingly honest and boldly confident than ever before, and is joined by several guests... 
ABOUT GHETTS
Born Justin Clarke and raised in East London, Ghetts combines razor sharp, crystal clear rhymes with smart humour and creative, intelligent wordplay.  In 2005, following his release from prison, Ghetts released his debut mixtape, 2000 & Life.  Since then he's gone on to release 5 further mixtapes, 3 studio albums, various blazing freestyles, and continues to improve and grow with each new offering.  Ghetts' previous album, Conflict Of Interest, marked a paradigm shift in his career receiving near-universal acclaim; reaching #2 on the Official UK Albums Chart and #1 on the Official UK Albums Downloads Chart; leading to Brit Award, Mercury Music Prize and NME Award nominations; plus DJ mag Best Of British and MOBO Award wins.