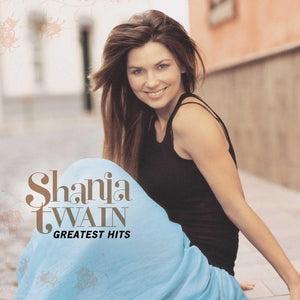 17/11/23
2LP BLACK
Shania Twain releases her record-breaking Greatest Hits album for the first time on 180g black vinyl! Selling over 100 million records, Shania is the best-selling female country artist ever, and this compilation showcases why. Including her iconic songs "Man! I Feel Like A Woman!", "Any Man Of Mine," "You're Still The One," and "Forever And For Always", this updated remastered release now contains her newest hit "Giddy Up!" and fan favorite "Life's About To Get Good."
Tracklists
2LP'S
SIDE A
1. FOREVER AND FOR ALWAYS
2. I'M GONNA GETCHA GOOD!
3. UP!
4. KA-CHING!
5. COME ON OVER
6. MAN! I FEEL LIKE A WOMAN!
SIDE B
1. THAT DON'T IMPRESS ME MUCH
2. FROM THIS MOMENT ON
3. HONEY, I'M HOME
4. YOU'RE STILL THE ONE
5. DON'T BE STUPID (YOU KNOW I LOVE YOU)
6. LOVE GETS ME EVERY TIME
SIDE C
1. NO ONE NEEDS TO KNOW
2. YOU WIN MY LOVE
3. (IF YOU'RE NOT IN IT FOR LOVE) I'M OUTTA HERE!
4. THE WOMAN IN ME (NEEDS THE MAN IN YOU)
5. ANY MAN OF MINE
6. WHOSE BED HAVE YOUR BOOTS BEEN UNDER?
SIDE D
1. PARTY FOR TWO (WITH MARK MCGRATH)
2. DON'T
3. I AIN'T NO QUITTER
4. LIFE'S ABOUT TO GET GOOD
5. GIDDY UP!